Wood Flooring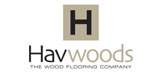 HAVWOODS FLOORING
Havwoods personnel personally select the very best products from the best manufacturers worldwide - the result is a superior portfolio of over one thousand different types of wood flooring. A large stockholding is kept for immediate delivery whilst bespoke orders can be fulfilled in as little as two weeks. A rapid delivery service is always available, alternatively stock may be reserved for up to three months (or longer by arrangement) in order to guarantee delivery as and when required. For larger projects warehouse space is available for storing and delivering in manageable consignments.
Havwoods have appointment-only showrooms in Andover, Hampshire and Higham Ferrers, Northamptonshire; the latter is an easy 50 minute train journey (St Pancras to Wellingborough) with trains running every 30 minutes.
Sample Textures
At Castle Carpets we have a large selection of wood flooring samples to view and ready for immediate ordering. As we only deal with leading manufacturers you are always guaranteed a quality flooring product
Our range of products will suit all lifestyles and budgets. In addition, we also provide a wide range of flooring accessories, including door bars, underlay and beading to accompany your new floor.
For more information on our product & services, Please Contact Us